Golden World Machinery (S) Pte Ltd
Why us?
---
GOLDEN WORLD MACHINERY (S) PTE LTD (Golden World) was establish in 1973, we supply wide range of machinery and equipment for industries, commercial and domestic uses. Machinery supplied are from technologies of Switzerland, Germany, Italy, Japan, Taiwan, China and Singapore. Clients base are locally and oversea which including industrial Company .Our expertise in manufacturing made equipments for usage under special conditions is an assurance of customization coupled with high performance.We are offering you with top quality products and first-rate customer service.
Wide Range of Products.
Decades of Experience.
One Stop Service Center.
Reowned Brands
Sell Internationally.
contact us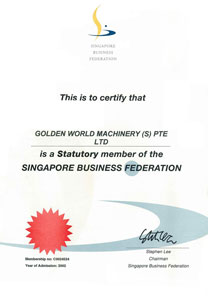 Our Customers.
---
No job too big or too small.
Students or Professionals, Prototyping or Mass Produce.
Video Reviews and Online Resources
---